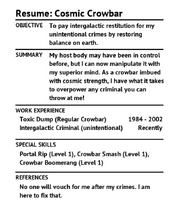 A powerful headless alien host body and an otherwordly crowbar head unite to form Cosmic Crowbar!
Abilities:
Edit
Starting stats:
Edit
Level 1:
3: Pow
50: Health
2: Intelligence
Level 5:
Level 10:
Brainchild of Steve Dengler, described by DF Kee as one of Double Fine's irreplaceable friends and supporters.
Cosmic Crowbar was not one of the original heroes, instead added to the game in March 2013.
Cosmic Crowbar is only available once one reaches the late-level zones and completes a particular story mission.